PFH Heavy-duty transmission equipment energy-saving device
PFH series heavy-duty transmission equipment energy-saving device is a high-efficiency feedback device specially designed for high-power and heavy-duty equipment. Heavy load feedback stability and power factor, so that the regenerative electric energy generated in the process of motor speed regulation is fed back to the grid, thereby achieving significant energy-saving effect.
1. PFH series energy-saving devices have "full voltage automatic tracking" technology
It can improve the stability of the feedback current during feedback, avoid serious sudden changes in current, and improve the power factor during feedback.
2. Built-in enhanced common mode inductor, noise filtering in the whole process, excellent EMC performance
3. Realize the four-quadrant operation of the variable frequency speed control system
The energy saving rate is as high as 20%~50%, the energy conversion efficiency is as high as 97% or more, and the energy saving efficiency is extremely high
4. No high-power resistance heating
Effectively suppress the temperature rise, improve the working environment, and increase the service life of the equipment
5. Comprehensive protection function to ensure the safe and reliable operation of the system
6. Built-in MODBUS communication protocol, easy to realize centralized monitoring
7. Support parallel mode, which can easily realize capacity expansion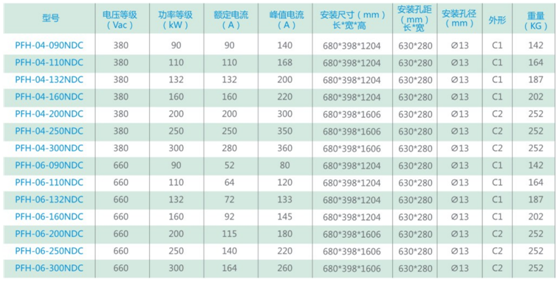 At present, it has been widely used in: port lifting, mine lifting, large centrifugal equipment and other occasions.
We work closely with you and carry out research to understand your needs and wishes.